AI-based traffic data collection from video
With GoodVision you will obtain traffic data from your surveys in the most convenient way ever. You provide traffic videos and our software captures all the traffic activity in a blink. Counting traffic volumes and reporting it to your customers has never been easier. Let us help you save your precious time now!
Perform traffic surveys within few hours
Compatible with your existing camera equipment
Share results to your customers on a click of a button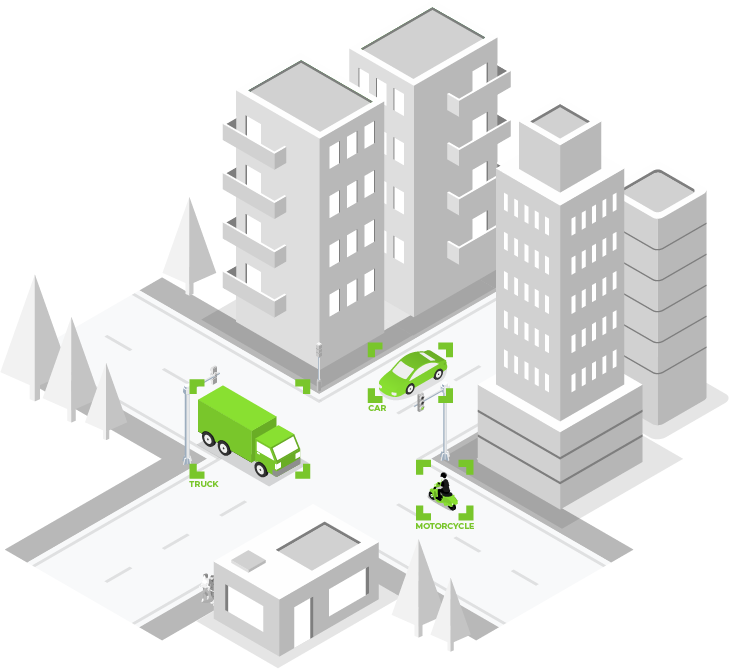 Need help getting started?
If you feel frustrated from manual traffic counting or using tube counters, then GoodVision is the way to go. Contact us and we'll help you to start!
Learn how you can start doing effective traffic surveys with GoodVision in 4 simple steps:
As a transportation professional, you need traffic data to be reliable and you need it fast! Stop dealing with manual traffic counters or putting your field technicians to risk when installing ATCs. With GoodVision you can perform traffic counting from the video, in one place. Whether it is a short corridor traffic study or a large scale traffic project, GoodVision is build to scale automatically to your needs wherever you are.
Read the success story
Pedestrian and bicycle surveys
Pedestrians and bicycle traffic studies are becoming very popular and there are not many ways how to obtain this traffic data reliably. Counting pedestrians manually is a nightmare, stop doing it. GoodVision detects pedestrians and bicycles with amazing accuracy in the same way as we detect vehicular traffic. Even retailers can utilize GoodVision to analyze the location potential.
Learn more about pedestrian studies
For many transportation engineers, drone traffic surveys are the ideal way of capturing the big picture from the bird's view. With GoodVision you can perform drone traffic studies with the same ease as regular traffic counting. One of the key advantages is a clear view without obstacles. You can fly your drone in height up to 250 m (~83 ft) and GoodVision will detect traffic attendants in great detail.
Read the success story
3 deployment options on your projects
We understand that price effectivity and ease of use are the major factors when choosing a new technology. Therefore GoodVision offers you four deployment options of traffic collection solution to best suit your project needs.
The most convenient on-demand model of traffic video analytics is available in the Video Insights cloud platform. Cloud video analytics gives you maximum flexibility and the shortest turnaround time on your traffic surveys.
Video processing happens in the cloud
Rapid "1 hour data delivery"
No deployment or HW costs
Pay flat rate per hour of video
Learn about Video Insights Platform
Cloud Traffic Counts 'Lite'
GoodVision Traffic Counts is a "lite" version of our automated cloud video processing when the platform is providing you purely with traffic movement counts reports you are familiar with from manual traffic counters.
Video processing happens in the cloud
You obtain Excel reports with traffic counts
Reports turnaround time is 3 days
Pay flat rate per hour of video
I'm interested in GoodVision Traffic Counts
If you want to perform permanent traffic monitoring or to obtain traffic data in real-time, e.g. for traffic control, you can deploy GoodVision Live Traffic to your road-side sensor. Very cost-effective for continuous traffic monitoring on large camera networks.
Video processing happens on the EDGE sensor on-site
Requires deployment to the EDGE sensor
Data is obtained in real-time
Pay monthly per camera stream
Learn about GoodVision Live Traffic
You're set for next traffic survey with GoodVision
GoodVision is the ultimate improvement to conventional manual methods of collecting traffic data. You'll serve more detailed data to your customers than any solution has ever provided.

You can choose from GoodVision's solutions for each stage of traffic data management on your traffic projects.