GoodVision Video Insights
A complete suite for traffic data analytics
Join the community of our 3500+ satisfied users on 6 continents and run your traffic projects in GoodVision Video Insights
Collect traffic data from video
Run advanced traffic modelling analyses
Monitor traffic in real-time
Ensure secure smart video storage
Collaborate easily with peers
Try it now
Getting Started Guide
Where Surveyors meet Modellers
GoodVision Video Insights is a platform for all kinds of data analytical tasks on your traffic and transport planning projects.
Surveyors save time on data collection
Modellers save time on model calibration
Users exchange multipurpose data
Platform where all parties collaborate
Traffic Data Collection
Get traffic data from video data sources in the fastest and the most convenient way ever by removing manual data collection
Traffic Modelling
Analyse traffic behaviour, calibrate your models automatically and save time by removing manual labour
GoodVision Video Insights in 4 steps
Following a few recommendations for your fixed camera or drone video processing will assure results with the highest possible accuracy and shortest delivery times. For more information check our data sheet.
Download data sheet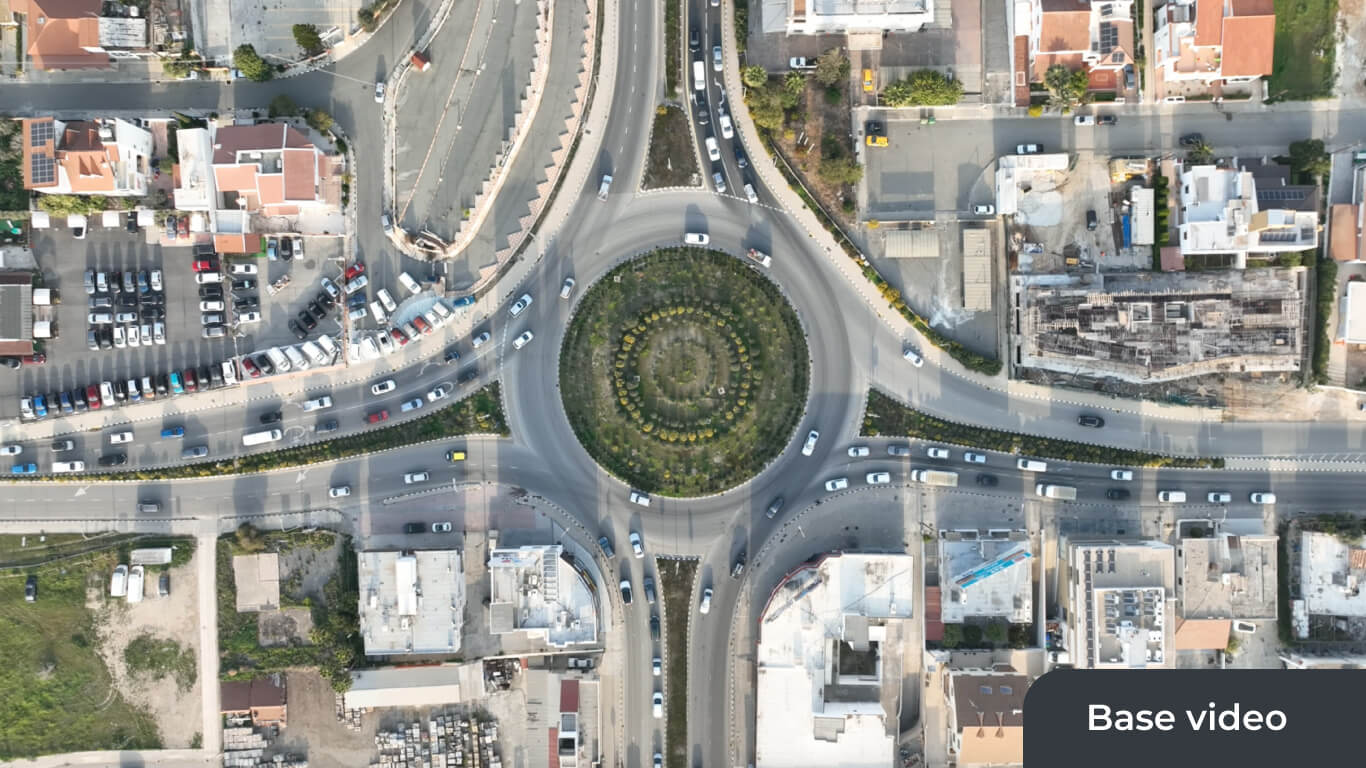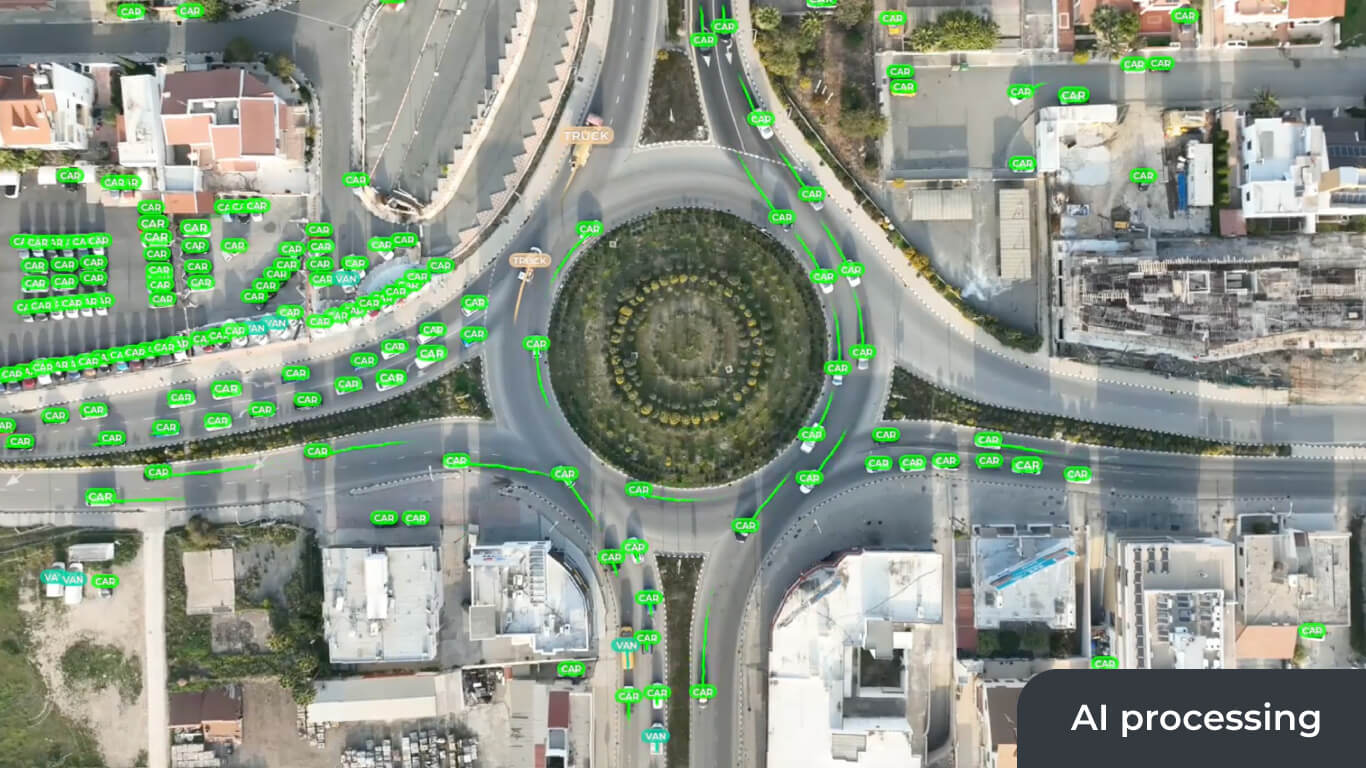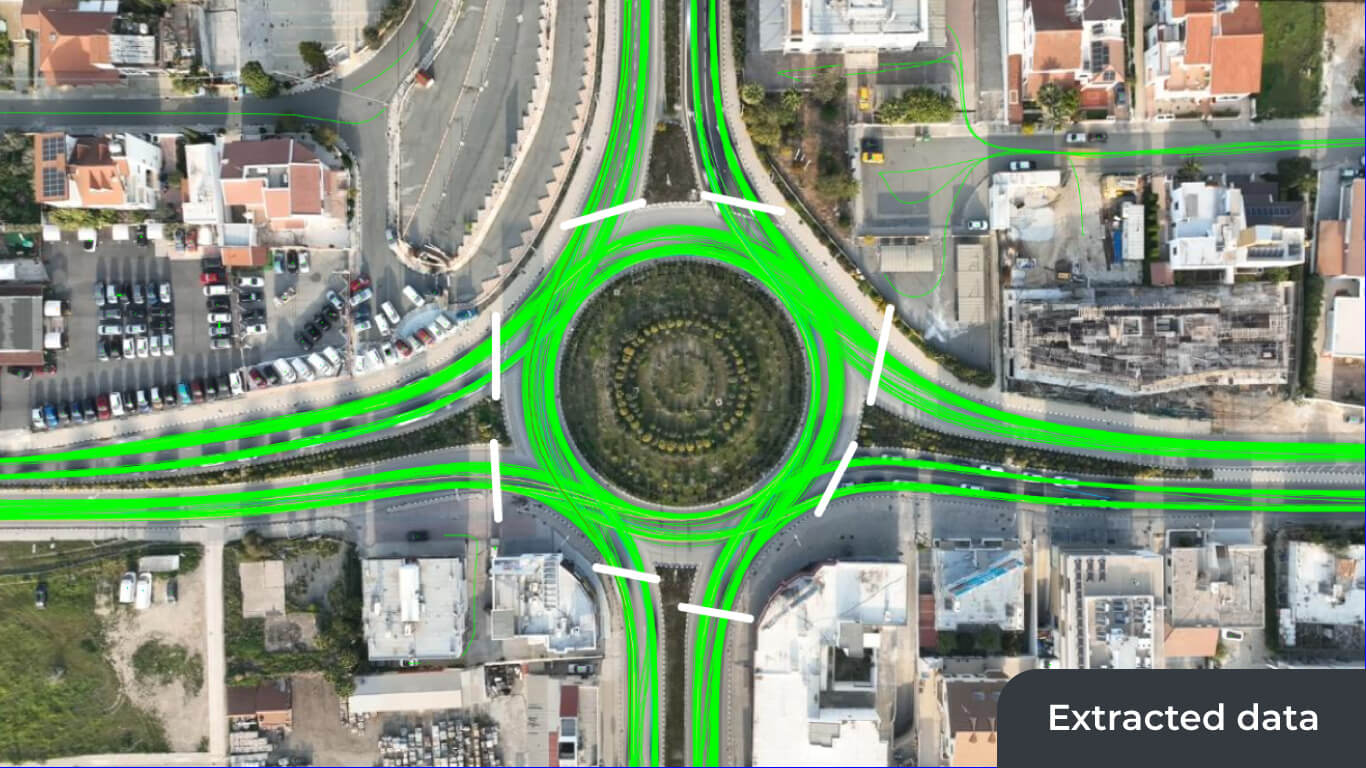 2. Extract data from video
We use proprietary artificial intelligence to extract hi-resolution traffic data from cameras. Precious and accurate data for modelling, transport planning and traffic control.
Video recordings
All standard traffic video files
Other data sources
Google Drive, ANPR camera and other
Vehicle classification
8 classes of vehicles, including pedestrians and bicycles
Min 95% accuracy of traffic data
Traffic data reliable in all weather conditions
1-hour data turnaround
Results from every traffic survey are immediate
3. Describe your traffic scene
Extracted data is perfectly visualised and you interactively describe what you want to analyse on the traffic scene. Turning movements, traffic events, and scenarios.
Main tools for data filtering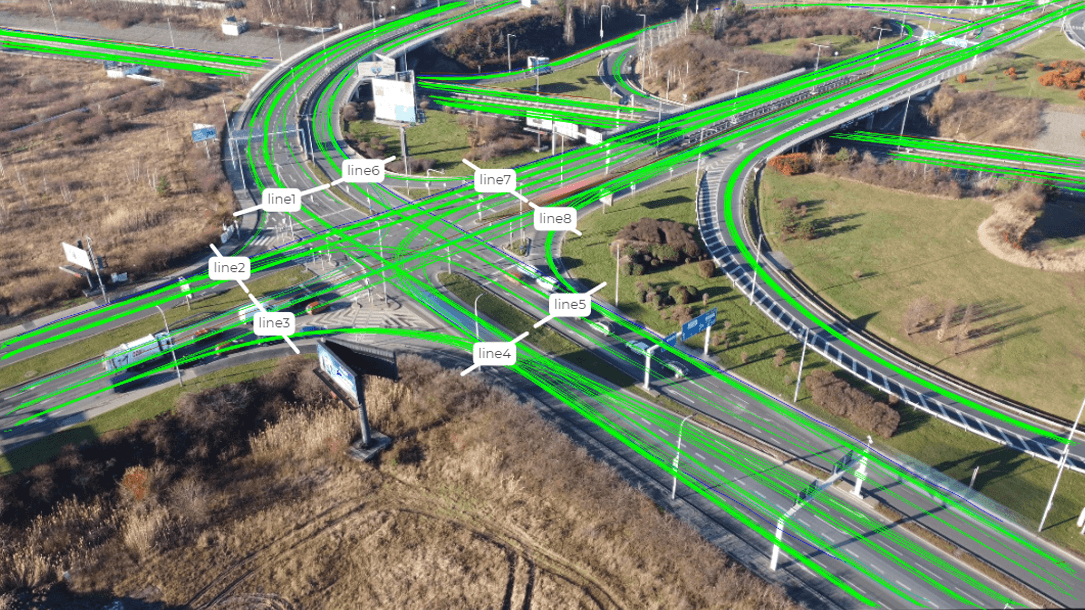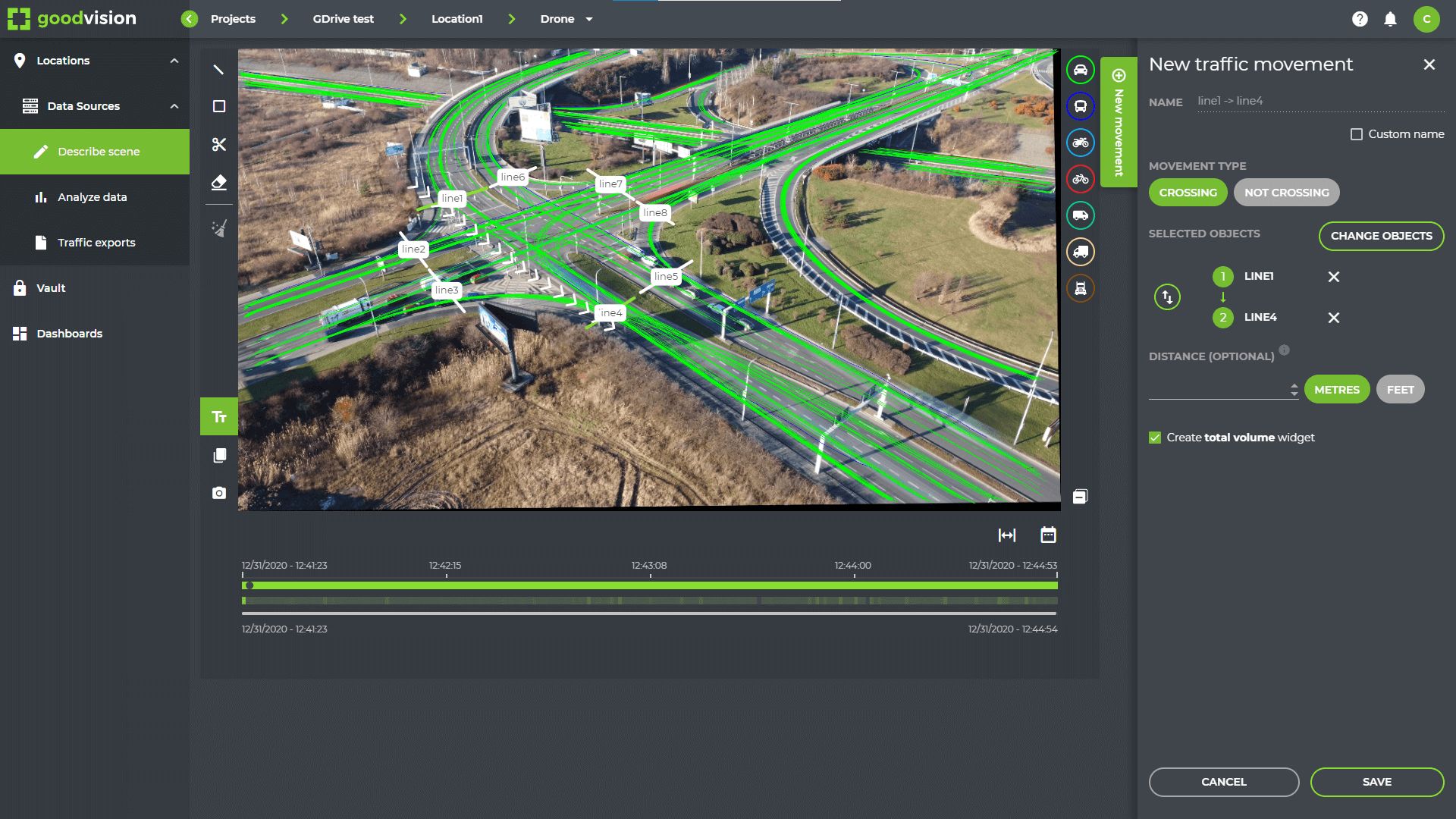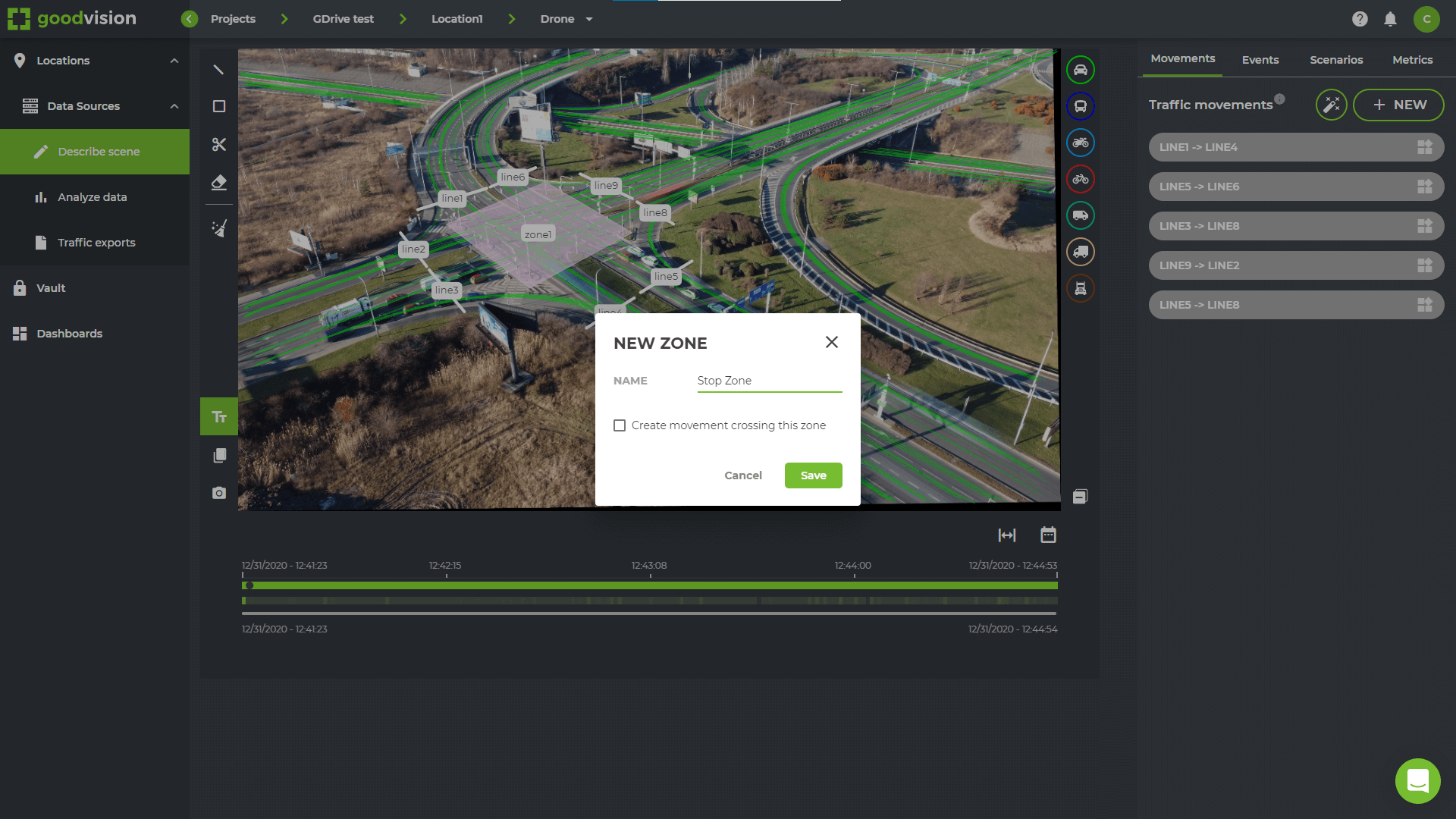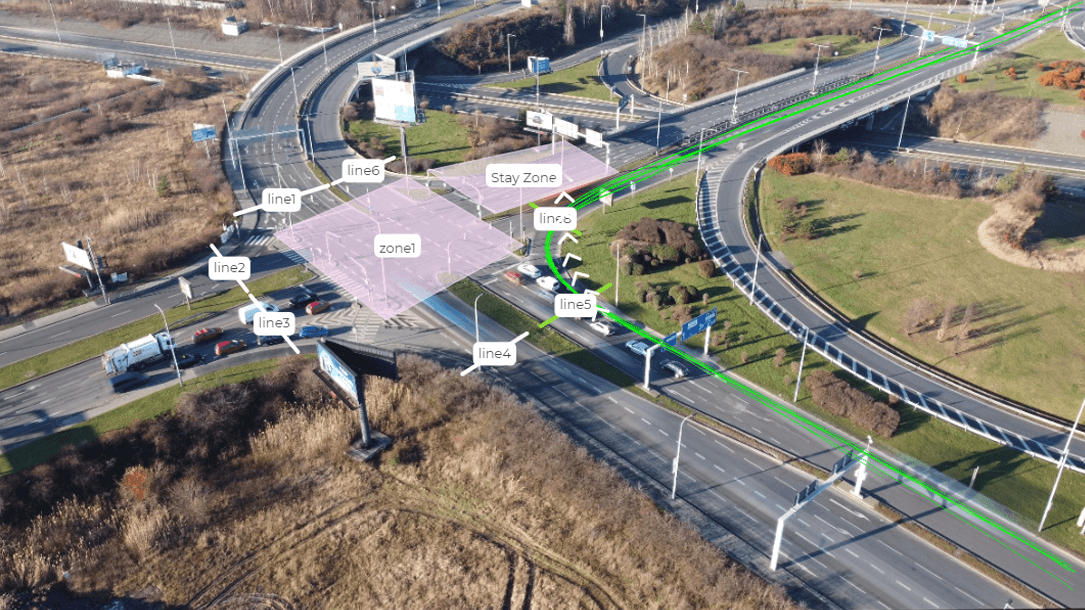 Motorways

Intersections

Roundabouts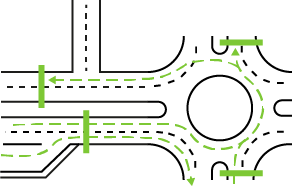 Complex networks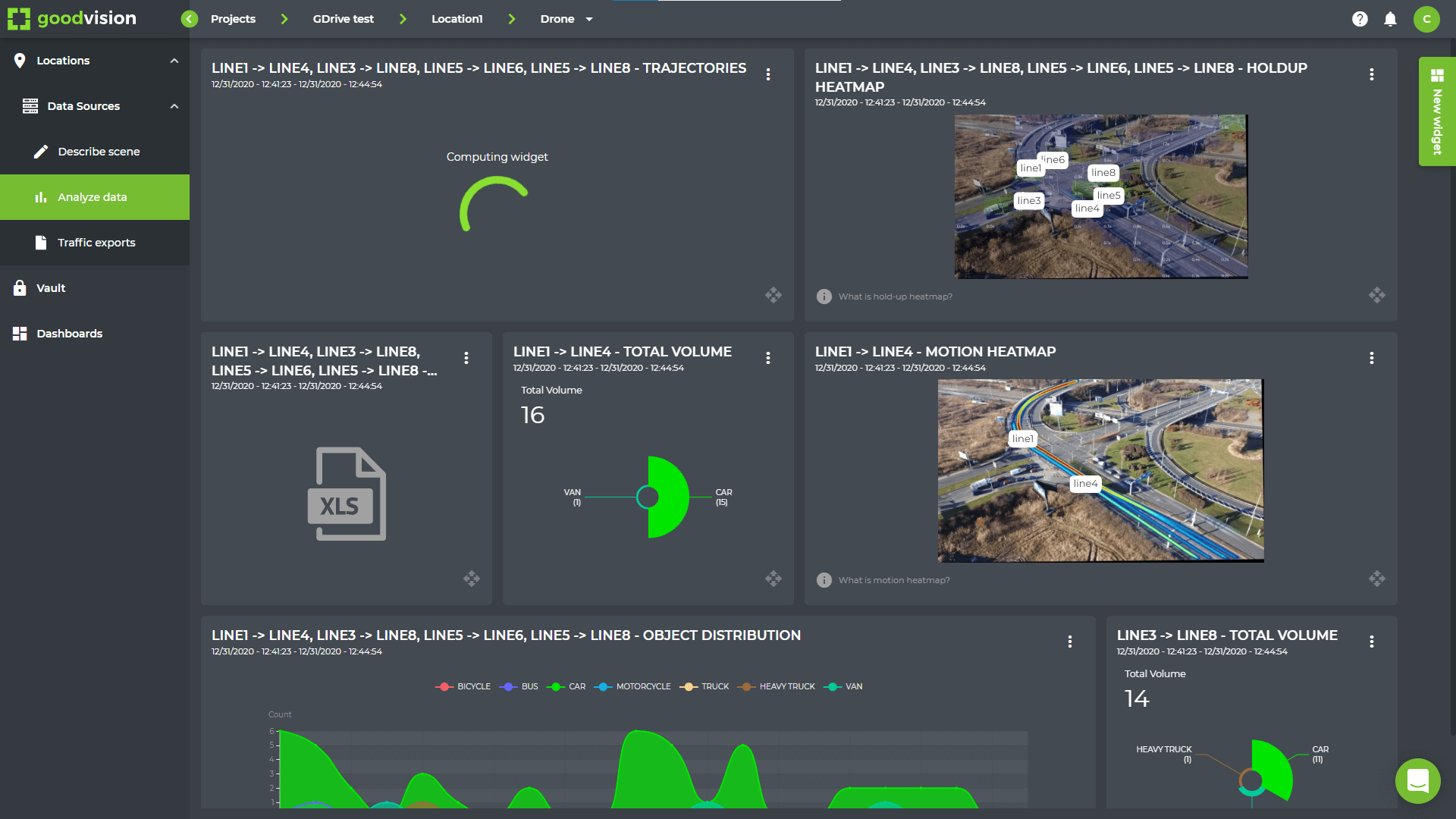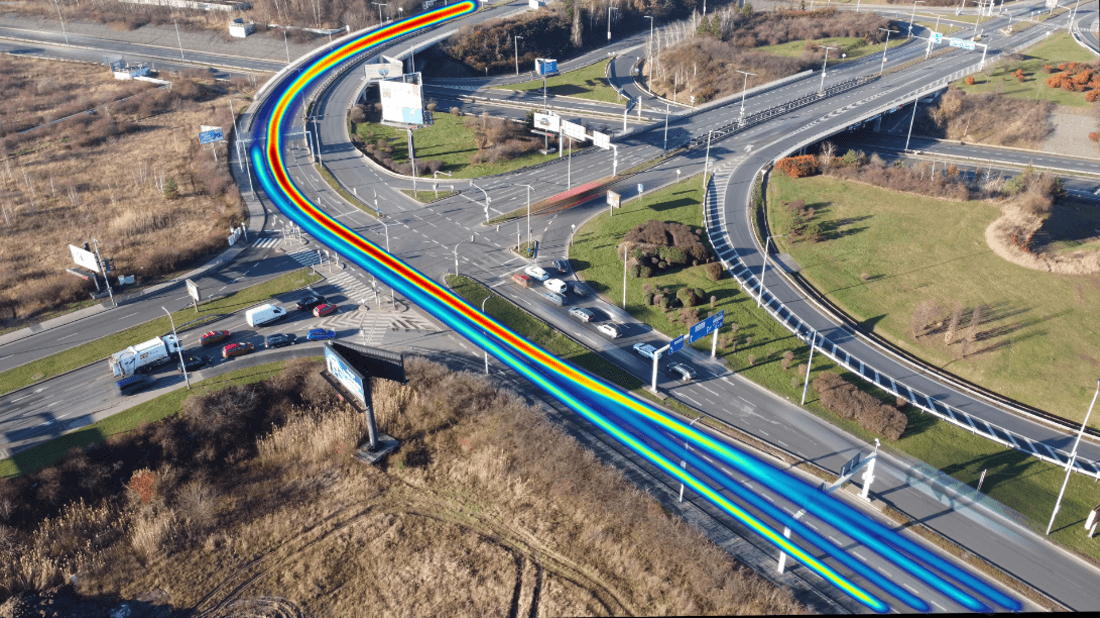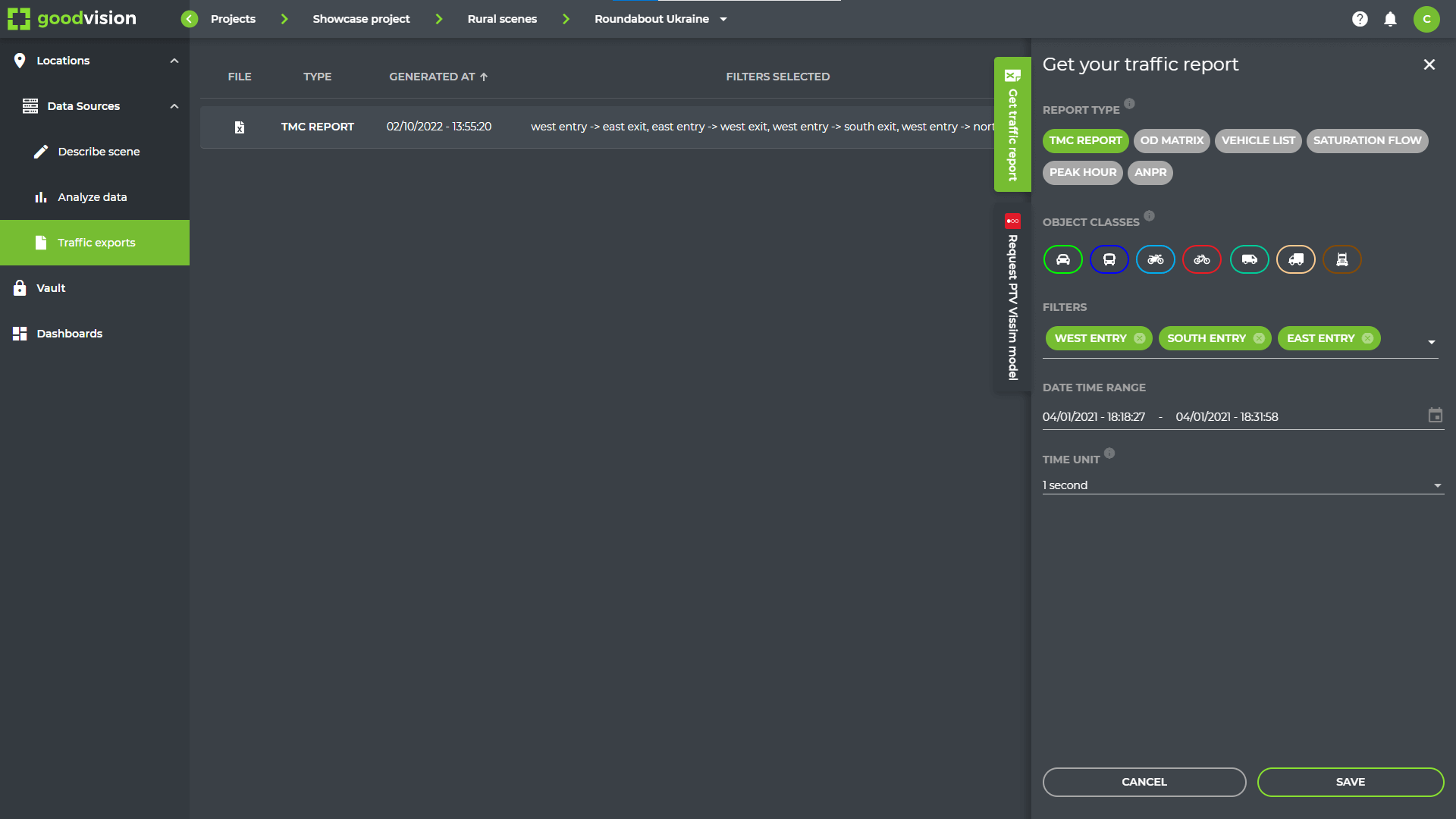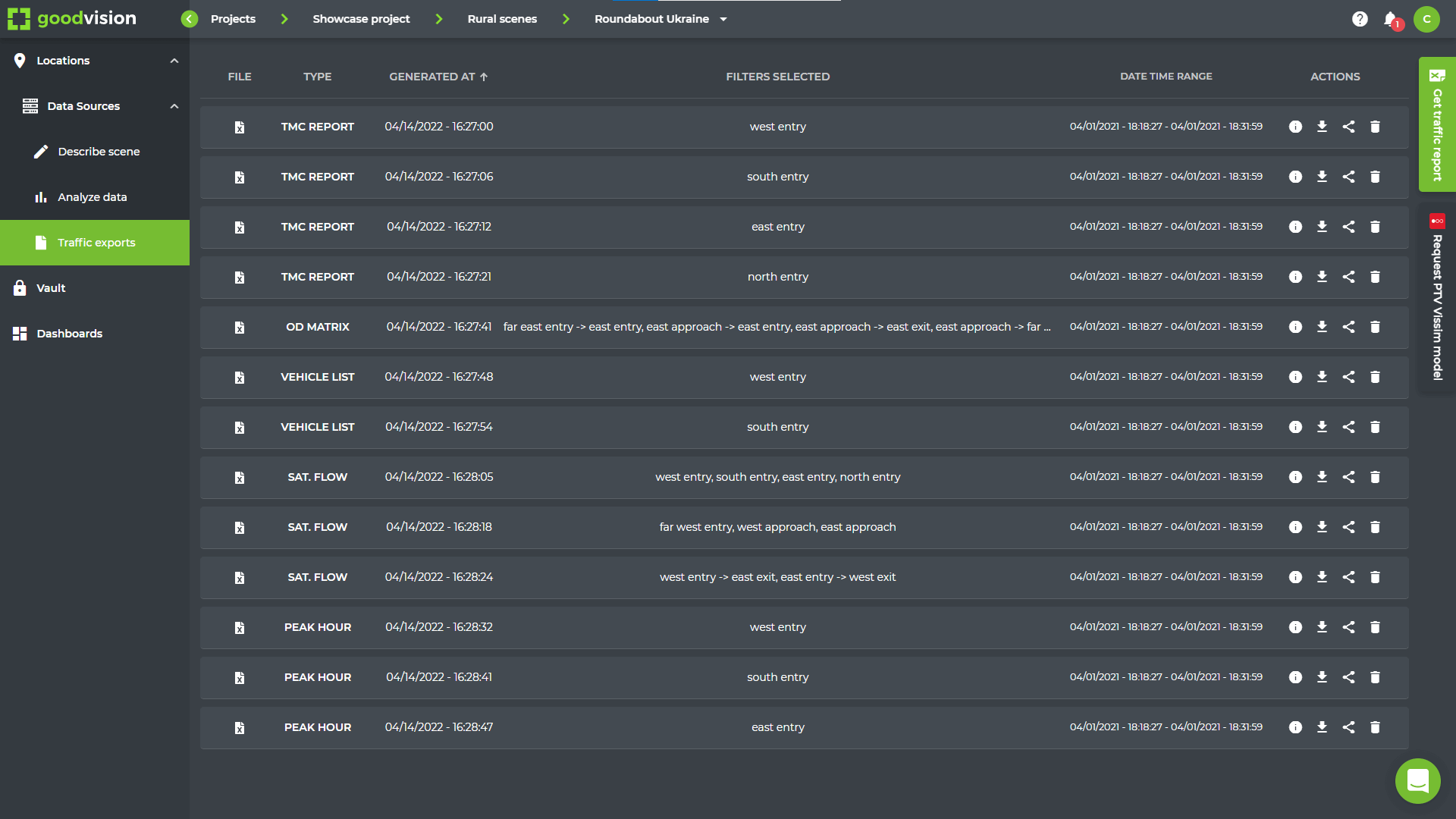 4. Analyse traffic parameters
There is plenty of traffic behavioural parameters and performance measures that can be analysed and exported from roads and junctions in GoodVision Video Insights. This data provides precious insights to traffic engineers on-road usage, traffic performance or safety.
Book a demo
Everything you need to improve traffic efficiency - in one place
Pricing and platform plans
Are you a traffic surveyor who needs to collect traffic data from your video? Or are you a traffic modeller who needs to obtain high-resolution traffic performance parameters for your traffic models? We have a platform plan based on your needs. Get in touch with us to know more about our plan options.
Contact us for pricing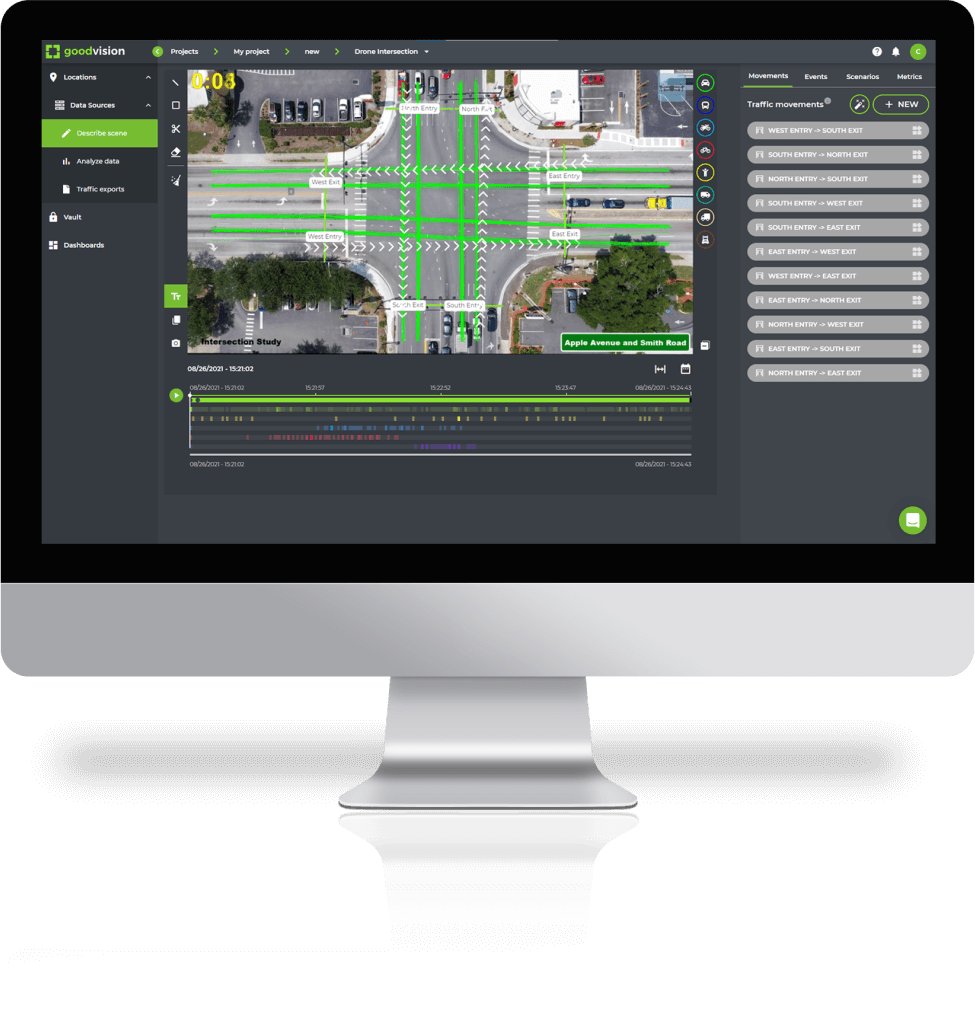 If you are a large-scale business and you require a tailored package or a custom solution, please contact us regarding our enterprise plan option.
Custom on-site deployment
Custom artificial intelligence